The shipyard is the online Ship Simulator 2008 vessel and environment shop containing high quality ships and environments for your copy of Ship Simulator.
Important stuff
Edit
You must have version 1.4.2 Patch installed before downloading ships from the shipyard. Mainly all ships are sized from 20MB to 5MB. All vessels cost € 4,99, and few lucky ones are free. Environment costs are unknown as there are currently none for sale.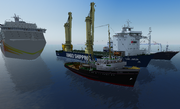 Ships & Environments
Edit
The Shipyard contains 5 vessels:
Ad blocker interference detected!
Wikia is a free-to-use site that makes money from advertising. We have a modified experience for viewers using ad blockers

Wikia is not accessible if you've made further modifications. Remove the custom ad blocker rule(s) and the page will load as expected.