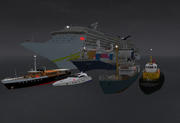 Ship Simulator 2008 add-on1 is a downloadable add-on featuring all six ships from the
Ship Simulator 2006 add-on
, converted for Ship Simulator 2008. Vstep had promised their
Ship Simulator 2006 add-on
customers to give them a free update once Ship Simulator 2008 came out. They did this because the Ship Simulator 2008 addon was largely the same as the older one, so the customers do not have to pay twice for the same ships, and they can get the remaining new content from New Horizons separately as well.
Getting add-on1
Edit
By registering your ship simulator 2008 license Key and your Ship Simulator 2006 add-on license key on your forum profile, you can download the add-on from the orange pop-up which appears on your profile after you have entered your license Key
This special addon pack was released on October 16, 2007.
Add-on1 contains all six ships from the Ship Simulator 2006 add-on
cruise ship, fishing vessel, Luxury Yacht, classic yacht, multi-purpose freighter, Russian tug
Ad blocker interference detected!
Wikia is a free-to-use site that makes money from advertising. We have a modified experience for viewers using ad blockers

Wikia is not accessible if you've made further modifications. Remove the custom ad blocker rule(s) and the page will load as expected.