Latitude

object type:
Ship
Facts:
Name
Latitude
Type
Very Large Crude Carrier
appearances
Offered:
Ship Simulator 2008
Add-on vessel?
No.
The VLCC Latitude is a playable ship in Ship Simulator 2008. She is the largest ships in the game, the Latitude is an oil tanker, which can transport up to three million barrels of oil. She is one of the largest ships in the world and therefore bears the title VLCC: Very large crude carrier.
First appearance
Edit
The Latitude first appeared in Ship Simulator 2008 and also appeared in Ship Simulator 2010.
Some of the VLCC Latitude pictures [1] on Ship Simulator seem to be of an entirely different ship. She has a different bridge but the same type of hull. This 'mysterious' ship is included in Vstep's Rescue simulator, and believed to be an early version of what eventually became the Latitude.
If you travel away enough from the Latitude, its distance model replaces it.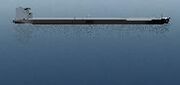 Ad blocker interference detected!
Wikia is a free-to-use site that makes money from advertising. We have a modified experience for viewers using ad blockers

Wikia is not accessible if you've made further modifications. Remove the custom ad blocker rule(s) and the page will load as expected.